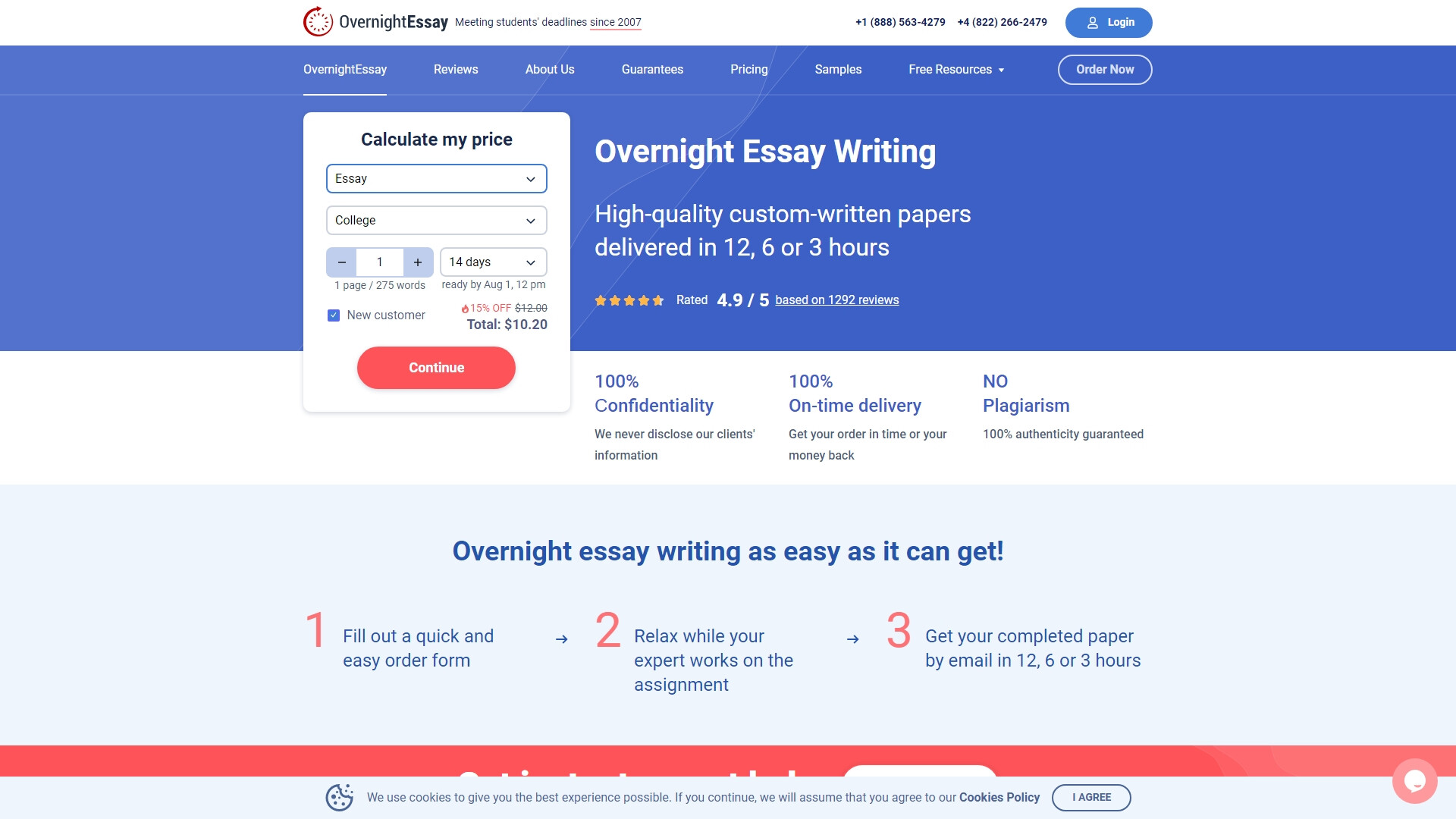 | | | |
| --- | --- | --- |
| Prices | | |
| Quality | | |
| Delivery | | |
| Support | | |
| Rate | | |
| | | |
| --- | --- | --- |
| Review | Extra Features | Customer's Reviews (25) |
Website usability
OvernightEssay.com has a generally eye-pleasing website. Icons located on the left side link to all the pertinent information. Their phone contact number, online chat, and log in area are all easy to locate. However, the variety of services offered is not specified. Moreover, we couldn't locate any customer testimonials on the website, which leads us to question their credibility.
Pricing
Factors that influence pricing include the academic level of the paper, deadline requested and number of pages. Service charge per order ranges from $18.03 a page for High School level assignment to $29.45 per page for PhD level. Both of these prices were given for a 14 days deadline.
Customer Support
We found OvernightEssay.com to be pretty poor in regards to customer service.
The online chat system did not seem to work, even though it said there were operators online. As for the free phone support, we had to call several times over three hours before we finally got through, and even then the operator would only give us vague answers to our queries.
Updates regarding the progress of work are issued via e-mail. However, there is no way to contact the writer directly (the writer was not logged in on the customer panel), so we could only send instructions through email and hope these were received.
Quality
The quality of writing from this site is generally quite low. Despite the clear statement of free plagiarism and free formatting services, grammatical mistakes and plagiarism are widely encountered. Sentence construction is intolerable and cannot be easily understood. Spelling, punctuation and syntax errors are all over the place. The deadline was not strictly followed, with the work being two hours late. Instead, we received an apology and lame excuse from the writer, and while they offered us a slight discount due to this, it doesn't really make up for it.
Order characteristics
The service provides an initial draft followed by delivery of the final paper
Writing services function for assistance only.
For deadlines, they allot 14 days for revisions (essays).
275-words per page maximum.
Customers can request a 10% refund if the order was not assigned to a writer before cancellation.
Total

OvernightEssay.com needs significant improvement before it can be considered a reliable service. They need to improve customer support channels stick to the agreed deadlines. In addition, the website could do be more user-friendly. Finally, while the prices are on the low end of the scale, the quality of writing was poor, so much so that the clients will likely need to make revisions themselves.
OvernightEssay.com Checklist by
Tool to calculate the price on the basis of your details.


How does the service ensure quality.

Information on available discounts:

Lifetime

Permanent discounts you get upon ordering certain quantity of papers.

Holidays

Special offers for seasonal occasions.

First order

Exclusive one-time discount on the first order.

For regular customers

Special benefits for loyal customers.

Opportunity to contact the support team instantly and 24/7.

Are there any partner programs.

4. Payment Methods:
PayPal
Credit and debit cards by Visa
Credit and debit cards by MasterCard
Credit cards by American Express
Credit cards by Discover
5. Additional Features:
Price Calculator
Plagiarism check
Money back guarantee
100% Privacy
Free Revisions
Free Amendments
Free Inquiry
All Formats
MA/MS and Ph.D writers
Direct contact with the writer
Writer did not follow instructions as to quotes, page numbers, and line numbers.
Was this review helpful? Yes
ask to revise lots of times but still not match my requirement, I have to submit tomorrow so I have to rewrite it by myself.
Was this review helpful? Yes
he didn't meet the deadline and not answering my messages , he doesn't respect the customer time he is very late and still didn't submit anything or even replying the messages
Was this review helpful? Yes
I got 3/10 for this assignment. The professor's feedback is :Your hypothesis should be one clear sentence, not a short paragraph. Role theory is not a theory that we discussed in class. Please select a theory that we discussed in class material.
Was this review helpful? Yes
The work was done in different fonts sizes and majority of the work was in BOLD writing. He didn't stay on topic. The work was just a COMPLETE mess.
Was this review helpful? Yes
Very poor knowledge and skills in this field
Was this review helpful? Yes
Your service isn't bad, but I asked for a 3 page writing, but only got 2 pages. Now I have to write the third page by myself.
Was this review helpful? Yes
I think such services are useful, but you need to think about your prices.
Was this review helpful? Yes
I'm very happy. I expected bad results for my paper and bad my professor's reaction because I've never been writing academic papers on my own. I decided to ask to do this assignment your writers and I'm better than satisfied.
Was this review helpful? Yes
I guess my hopes were too high. I expected to improve my academic performance but I got a D grade instead of planned B.
Was this review helpful? Yes
I hate it that services like this one undermine my confidence in all the online services offering just anything for money. It starts to seem that it all is a pure fool's bargain.
Was this review helpful? Yes
They claim that they offer different discounts, although I didn't receive any in fact.
Was this review helpful? Yes
It wasn't my first order and it isn't a first time such a BAD essay from your site. I will NOT continue to use this service.
Was this review helpful? Yes
Their main problem is the lack of communication. I was not informed about the delay with my essay. How come should I proceed with it?
Was this review helpful? Yes
My friend recommended me this site. I am very disappointed with it. Your writers aren't qualified in the analysis assignment. I receive a paper with many errors. As a result - I got a C. It's a bit confusing.
Was this review helpful? Yes
Very angry as I wanted to send my paper on time. That wasn't what I planned.
Was this review helpful? Yes
Your writer didn't follow the instructions. I left clear requirements and gave 10 days for this work. But I received a paper with poor grammar, a lot of mistakes and totally different from my order. I am very disappointed.
Was this review helpful? Yes
After reading the paper I received I'm shocked by your writers. It seems like they'd never had any deals with writing before. It's very unprofessional.
Was this review helpful? Yes
Cool site for students. I never had any issues with it only with myself. I need to quit spending money on someone's essays.
Was this review helpful? Yes
Guys! You need to be more careful with your customers because they will never order these services if you don't have high quality writers.
Was this review helpful? Yes
I'm a bit confused, because I received excellent written coursework with all followed instraction but I got it two days later!
Was this review helpful? Yes
I think such services are useful. Your writers and customer service staff are probably the best in this industry. Thank you so much. Your help was a valuable asset to my success as a college student.
Was this review helpful? Yes
Got my history paper done here. The paragraphs were mixed - written not in order, the main subject of the essay wasn't fully disclosed. I'm not sure if I'll use this service again.
Was this review helpful? Yes
Everything was fine, my professor didn't suspect that my essay was bought from online servise.
Was this review helpful? Yes
Had my research paper done here. The paper was written well, I'm pretty much satisfied. Thanks
Was this review helpful? Yes
Claim your business and manage your reviews for free.
Confirm your ownership and get the possibility of editing information about your company at Best-Essay-Sites.com