MyHomeworkWriters.com
Is this your business?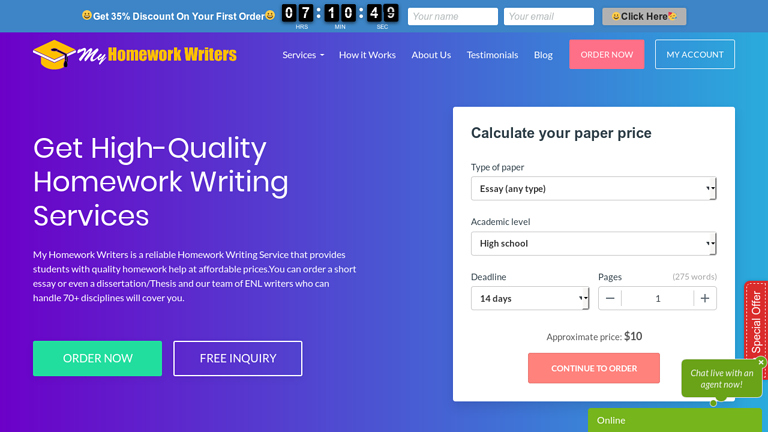 | | | |
| --- | --- | --- |
| Prices | | |
| Quality | | |
| Delivery | | |
| Support | | |
| | | |
| --- | --- | --- |
| Review | Extra Features | Customer's Reviews (17) |
MyHomeworkWriters.com Checklist by
Tool to calculate the price on the basis of your details.


How does the service ensure quality.

Information on available discounts:

Lifetime

Permanent discounts you get upon ordering certain quantity of papers.

Holidays

Special offers for seasonal occasions.

First order

Exclusive one-time discount on the first order.

For regular customers

Special benefits for loyal customers.

Opportunity to contact the support team instantly and 24/7.

Are there any partner programs.

4. Payment Methods:
Credit and debit cards by Visa
Credit and debit cards by MasterCard
Credit cards by American Express
Credit cards by Discover
5. Additional Features:
Price Calculator
Plagiarism check
Progressive delivery
Money back guarantee
100% Privacy
All subject areas
Free Revisions
Free Inquiry
All Formats
PowerPoint Presentations
6-hour delivery option
Single/Double Spaced papers
Writers are Native English Speakers
MA/MS and Ph.D writers
I wrote that I want you to write about the Technology Transfer Law in Egypt, Singapore and South Korea and the impacts, benefits and barriers of that Law on these countries.
Was this review helpful? Yes
he is always offline
Was this review helpful? Yes
Didn't follow through the instructions given. Made several mistakes. Based the essay on a film even though it was written twice that it was to be based on the novel and that it was for American literature. Didn't even constructed it as an essay but more like a sum up of the film. I even uploaded a file to explain how the outline supposed to look like. When I asked what I needed in the revision, I received the same sheet, barely reorganized. Very disappointed to waste my money and time.
Was this review helpful? Yes
I need my paper why is it tow not one also why is it all together
Was this review helpful? Yes
I received my grade and it was below a 75!
Was this review helpful? Yes
Not happy at all! took a lot of time and did not do what i told him to do for the revision!
Was this review helpful? Yes
Wasn't on time and instructions weren't followed.
Was this review helpful? Yes
He had no knowledge of the topic whatsoever. He/she somehow managed to spew some vaguely related content several days late. This was after I asked if he/she knew about the topic and even giving him/her relevant reading material incase he/she didn't.
Was this review helpful? Yes
Missed the deadline, and did not respond to my messages.
Was this review helpful? Yes
Bad attitude and very lazy
Was this review helpful? Yes
the writer got the concept wrong! !! obviously didn't do the readings!!!
Was this review helpful? Yes
I didn't receive a final product. The writer wouldn't make corrections and surpassed the deadline by over 2 days. Boldgeek had done good work for me in the past but did not meet expectations this order or on my past one which is why I had to subit this order in the first place. Extremely disappointed.
Was this review helpful? Yes
This is horrible essay. Writer did not even try to look at the prompt. It is just summarizing of novel.
Was this review helpful? Yes
The writer did not follow the instructions even though I confirmed numerous times if she could do so. I asked for revisions and her response time was long and the revisions as asked were not made. The paper were submitted 2 days late and not to my specifications I had to revise most of the document. I needed to rewrite a 9 page paper in less than a few hours or fail my class. She was also constantly offline and unresponsive. If you have a short vanilla paper perhaps she can write that but anything more proceed with caution.
Was this review helpful? Yes
Hi I am not happy with the information in the presentation the writer just copied the information that I sent and added few words to it , didn't accept 15 days of waiting I will just receive repeated words in deferent fraises. I have mention it is master degree.
Was this review helpful? Yes
Pay for help with doing my work but did finish all my work by my self. Excellent experience. And if the work you don't want to do or don't understand the information I provide, just send a chat or email. It's wasting your time and me, also the money I pay. Thanks, have a good day.
Was this review helpful? Yes
Very unorganized. Will not use this writer again
Was this review helpful? Yes
Claim your business and manage your reviews for free.
Confirm your ownership and get the possibility of editing information about your company at Best-Essay-Sites.com