MasterPapers.com
Is this your business?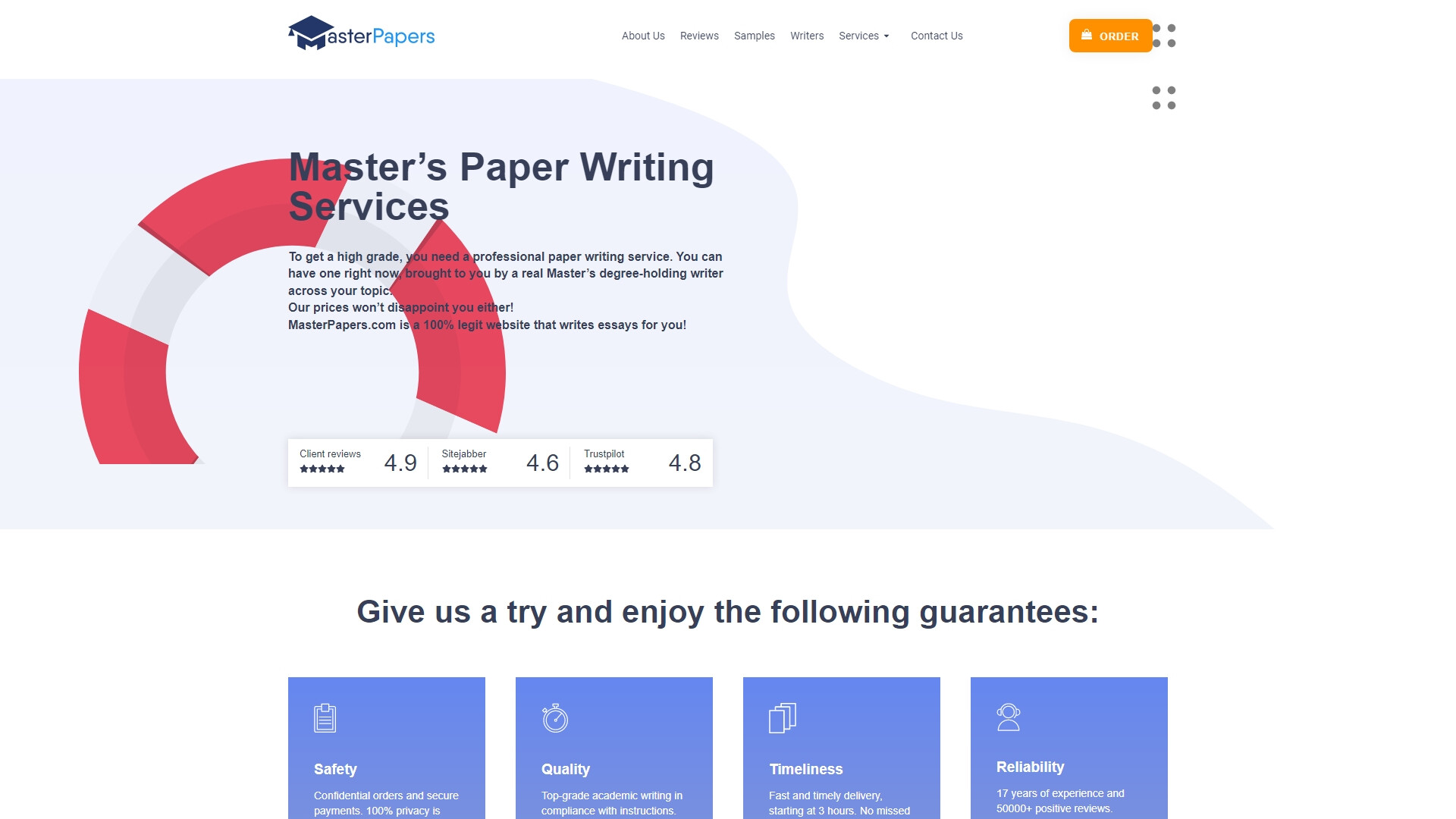 | | | |
| --- | --- | --- |
| Prices | | |
| Quality | | |
| Delivery | | |
| Support | | |
| | | |
| --- | --- | --- |
| Review | Extra Features | Customer's Reviews (33) |
Website Usability
Their website looks professional enough, but the appearance is very dull, painted in boring blue tones. As for accessibility to important information such as services, prices and discounts offered, this seems to be scattered all over the home page, although this is only a minor annoyance. Using their respective email addresses and passwords, customers can log in quickly via the form in the top right corner of the page. To keep track of costs, they provide a price calculator.
Pricing
High School academic level papers start at $33.95 for urgent deliveries (6 hour deadline). Master's level papers start at $40.95 (3 hour deadline). The minimum number of pages is one page.
Customer Support
Customer support system is available 24/7. Live chat, free phone lines, e-mail services and personal page messaging are the four methods offered. It is important to note that these services are not accessible at all times.
Chat requests are not accepted immediately. Straight answers to our queries were often difficult to obtain. Responses from the customer panel were not prompt and not reliably obtained.
We also found it was very difficult to reach them over the phone, either because they were too busy or simply didn't have enough operators available. We found that the email system was reasonable enough – they responded in 12 hours with straight answers, but email is not going to cut it when there are strict deadlines.
The last choice, personal page, offers messaging with both admin staff and the assigned writer. The responses came almost instantaneously from the admin when we tried, but our writer seemed to go missing. When our writer did come online, we received a couple of short, curt responses before he promptly ignored us!
Writing Quality
The website offers services ranging from High School, through to Master's, with every other level in between. With the high price charged by the website, we were disappointed to learn we had to ask for revisions to improve the quality of writing and formatting.
Order processing time
Through online payments, it takes one about 10 minutes to fill out the order form and pay. For the actual payment process, SWREG (an online payment processor) is used along with the various options including PayPal and direct credit card payment. The payment is sent immediately and that's when your order is accepted. Thereafter, the work begins.
Total
The site charges too much for the quality of work delivered. The unprofessionalism of the employees must be changed and improved. Nobody wants to work with an unfriendly writer.
MasterPapers.com Checklist by
Tool to calculate the price on the basis of your details.


How does the service ensure quality.

Information on available discounts:

Lifetime

Permanent discounts you get upon ordering certain quantity of papers.

Holidays

Special offers for seasonal occasions.

First order

Exclusive one-time discount on the first order.

For regular customers

Special benefits for loyal customers.

Opportunity to contact the support team instantly and 24/7.

Are there any partner programs.

4. Payment Methods:
PayPal
Credit and debit cards by Visa
Credit and debit cards by MasterCard
Credit cards by American Express
Credit cards by Discover
5. Additional Features:
Price Calculator
Plagiarism check
Money back guarantee
100% Privacy
All subject areas
Free Revisions
Free Amendments
Progress Bar
All Formats
UK Essays
PowerPoint Presentations
6-hour delivery option
Single/Double Spaced papers
Writers are Native English Speakers
MA/MS and Ph.D writers
Direct contact with the writer
I was recommended this writer by the team. turned out to be my worst night mere. unresponsive, uninterested and very incompetent. he hardly responded to messages and when he did, it took at least 4 days. he offered to revised the work which he did not do, reported the matter to customer service team, they said they would get him to revise the work, he still did not revise. He had copied 70% of his work from a circular source to do an academic writing, which is totally unprofessional.
Was this review helpful? Yes
work was late, instructions not followed, and work was rushed
Was this review helpful? Yes
I got this done by your company but very poor work given to me, please go through this assessment questions and what is given to me is all crap, which i will fail for sure.
Was this review helpful? Yes
Not what was asked for originally. Writer tired but deadline was passed.
Was this review helpful? Yes
Fraud website with ridiculous customer support team.
Was this review helpful? Yes
I want from you to add in text citation after every paragraph, especially for the swot analysis
Was this review helpful? Yes
She didn't follow instructions and missed the deadline.
Was this review helpful? Yes
No recourse page or citations and word count is way below what I asked
Was this review helpful? Yes
Did not follow the instructions given, asked to make sure they essay was an argumentative and was written as informative. And ever time I asked a question, she just kept saying to rate her and accept the paper.
Was this review helpful? Yes
I cant see the answers
Was this review helpful? Yes
Got a 60 on my essay and almost failed the class because he cited my essay using the teachers name as the author. If this is done by a "professional" then they should know the author of the book is not the teacher
Was this review helpful? Yes
Your chosen topic is a good idea but you need to get a bit more specific. I already had to have a revision because the instructions were not followed with the necessary information. I use this writing service a lot and never have issues. I paid for college-level, quilty work and received subpar work. It is unacceptable!
Was this review helpful? Yes
I'm happy I didn't know about this site earlier and I wrote my essay on my own for the first time, because the second time I ordered my assignment here and it was awful.
Was this review helpful? Yes
I've chosen this service because I liked the price, it's cheap but I expected quality papers, instead, I received just an average essay - nothing special. Frankly, I'm a little disappointed
Was this review helpful? Yes
The question from the assignment is not clear and I can not read it. Could you help me?
Was this review helpful? Yes
Carry on guys and very soon, you'll have a greaaaat bunch of unsatisfied and angry customers!
Was this review helpful? Yes
I was so embarrassed than my supervisor said that my dissertation has plagiarism...
Was this review helpful? Yes
They sent me another paper. I was very disappointed. The worst writing service.
Was this review helpful? Yes
Their conversations with customers sound nice and polite, and I noticed that they tried to do their best to make my essay better when I requested an additional revision. Unfortunately, the end result wasn't as good as I needed despite the efforts this service put in it.
Was this review helpful? Yes
Probably, it is the worst decision in my life to order these services. I prefer to work with other writers in the future. Thank you so much for wasting my time.
Was this review helpful? Yes
Although I use this service to edit my papers sometimes, I wouldn't recommend it to my friends because they will tell that I waste my money.
Was this review helpful? Yes
So many friends of mine start to use such services... I decided to try it too. But for my great regret, this service could not satisfy my desires.
Was this review helpful? Yes
I'd better work on my essay on my own. The word choice was poor and there was no proper conclusion.
Was this review helpful? Yes
I was shocked when I received the same research paper I ordered 3 months ago. I don't know if they know what exactly plagiarism and original papers mean.
Was this review helpful? Yes
Communication is poor and the service is not truthful. You get what you deserve.
Was this review helpful? Yes
I didn't get my paper on time and couldn't contact the support team!
Was this review helpful? Yes
Horrible site, horrible quality.
Was this review helpful? Yes
I think such sites can solve many problems with which we face in university.
Was this review helpful? Yes
I wonder if services with high prices can have bad quality. The only thing that surprised me the work was send to me on time and THANK GOD ... I wrote my work by myself.
Was this review helpful? Yes
A non-user-friendly site with the combination of unprofessional writers equals a plagiarized expensive paper...
Was this review helpful? Yes
I didn't like the writer. I spent 4 hours to revise his writing. As a result - I got a C. It was the worst experience ever.
Was this review helpful? Yes
Maybe, I could use the help of masterpapers.com again, but I can't recommend it to my friends, because it is too wary and expensive.
Was this review helpful? Yes
I cannot say that I am satisfied with the quality and prices you charge. As most of your clients are the students, so nobody wants to go over budget. I would not refuse to get some discounts or holiday offers. Think about it!
Was this review helpful? Yes
Claim your business and manage your reviews for free.
Confirm your ownership and get the possibility of editing information about your company at Best-Essay-Sites.com